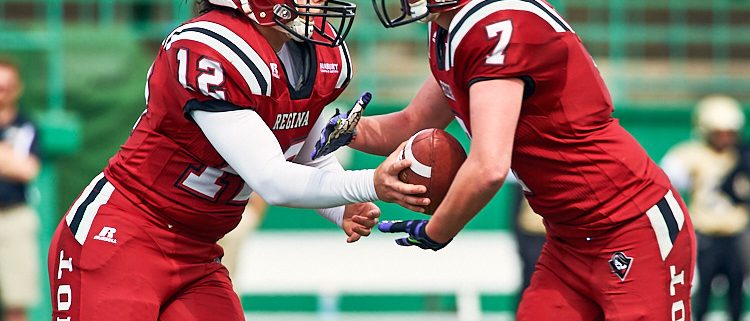 In the lead up to the 2018 regular season, we'll be taking a closer look at certain Regina Riot players both on-and-off the field in our new series, 10 Questions. This week we get in-depth with running back Mallory Starkey.
When did you start playing football? Why?
I started playing football when I was 11 years old. I grew up watching my three older brothers play, and I couldn't wait to start playing myself. The bantam football team that my youngest brother played for allowed kids to sign up when they turned 11, and so it gave me the opportunity to play a year with my brother.
I was also fortunate enough to be able to play high school football on a women's team prior to joining the Regina Riot.
What makes the Regina Riot different than the other football teams you've played for? 
One of the main things that the Riot do differently than other football teams I've been apart of is the focus they put on developing an elite program. Rather than competing against ourselves, we work together to help improve each other as individuals and as a team.
How has the team changed in the years that you've been involved with it?
This team has grown in many ways since I first became involved. We've moved away from just being a group of women playing football, and moved toward being an elite team working together to achieve a common goal. The knowledge and understanding of football on this team has increased dramatically, and the level we are able to compete at as a team is helping to develop the league as a whole.
What is it about the running back position that attracts you?
One of my favourite things about being a running back is the variety of skills and responsibilities that are involved depending on the play. At times running backs have to be able to provide pass protection, lead block, run routes and carry the ball. I also love the aggressiveness and physicality that is required.
As a running back, I am also able to see how the hard work of my teammates makes plays successful, and I can better appreciate the efforts and skills of other players.
How does splitting time with someone like Carmen Agar make you both better players?
Carmen and I play running back differently, and we have different strengths. Because we play differently and come from different athletic backgrounds, we have been able to learn from each other and push each other to develop our abilities. With both of us having years of experience under our belts, we're able to give advice and suggestions during games that can help the other be successful on the field.
Has anyone given you & Carmen a running back duo nickname yet? If not, what do you think it should be?
When we first started we were referred to as the Dynamic Duo for a bit. But since then, it's always been Batman & Robin.
Tell us about your time playing for Team Canada in 2013 and 2017.
My experiences on Team Canada have been incredible!
In 2013 I had the opportunity to play as a running back and I was able to learn a great deal from the coaches there. I also gained a greater understanding of American football and the different rules they play by. It was a blessing to be able to represent Canada on an international platform and to advance women's football as a country.
In 2017, I went as a linebacker. Unfortunately I was injured and unable to participate in the games. Still, it was incredible to see the growth that had happened in 4 years. And it's even more exciting to think about where women's football in Canada will go in the future.
How do you like to spend your time when you aren't playing football?
I'm a full-time student currently working on a Master's Degree. In my spare time I also coach high school football and play college softball.
What is your favourite moment in a Regina Riot jersey?
My favourite moment in Regina Riot history would probably have to be winning the Prairie Conference Final in Regina (in 2017). There were a few young girls and boys who came onto the field after we had won that were asking for autographs from the players. It was a great moment to see that, as a team, we were inspiring young kids. Football changed my life, and I love that we now get to pave the way for young girls to play football in the future.
Where do you think the Regina Riot are headed in 2018 and beyond?
Looking back over the years I have played with the Riot and thinking about where we have come as a program, I think we're headed towards another great season in 2018. As a team we had a lot of changes and we will be welcoming a lot of new, younger players. We ended last season on a high note, and I expect the program to continue to evolve and develop into an elite program in the future.
https://reginariotfootball.com/wp-content/uploads/2018/03/DSC4934_WebSize.jpg
617
750
reginariot
http://reginariotfootball.com/wp-content/uploads/2016/10/Regina-Riot-Logo.png
reginariot
2018-04-18 18:37:51
2018-04-18 18:37:51
10 QUESTIONS WITH MALLORY STARKEY