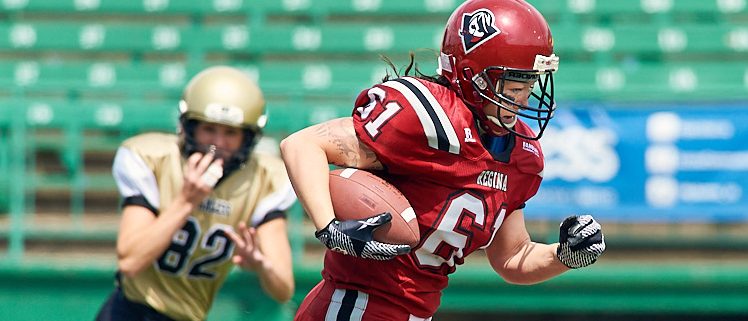 In the lead up to the 2018 regular season, we'll be taking a closer look at certain Regina Riot players both on-and-off the field in our new series, 10 Questions. This week we're talking with last year's Regina Riot Defensive Rookie of the Year Kristi Jakubowski.
You joined the Regina Riot as a rookie in 2017. What made you want to play football?
My boyfriend plays, and I'm a super competitive person. I thought to myself, "Hey, why not try it out?"
How would you describe your first year with the Regina Riot?
My rookie season was both amazing and scary! I had no idea what I was doing, and all the other women are so talented. It could be pretty intimidating walking into practice with a room full of elite athletes.
However, I quickly realized that it was more than a football team; it was a family. My teammates and coaches were very welcoming and supportive. They truly wanted me to be the best player that I could be.
Is there a moment from your rookie season that stands out among the rest?
Not one great moment, but two: scoring a touchdown on a fumble recovery and receiving the Defensive Rookie of the Year award at our year end banquet. 🙂
If all of the defensive linemen from last season took turns on the bench press, who would put up the most reps?
Obviously me. (laughs) 
Just kidding. From last year I would have to give it to my girl Amanda Tafelmeyer. But she won't be playing in 2018, so if you're looking for someone that will be on the field this year I'll say it's Ashleigh Henrion.
This season you're going to be transitioning from the defensive side of the ball to the offensive side of the ball. How are you preparing for that?
I'm preparing to make a lot of mistakes. (laughs)
It's a totally different ball game playing on the offensive line. There's definitely a learning curve, but my coaches and linemates are super supportive and knowledgeable. They'll help me adjust.
I understand that you come from a boxing background. What can you tell us about that?
I grew up on a farm in a small town, so playing sports was just what we did. I grew up playing hockey and ball, and later in life is when I discovered boxing. I became a provincial champ and a Saskatchewan Golden Gloves champ.
When you aren't playing football or boxing, how do you like to spend your time?
I teach boxing fitness classes at the Regina Boxing Club (does that count as not boxing?). I also spend time travelling and watching movies. I work out a lot at our sponsor Evolution Fitness, and have recently found a new love for weightlifting. Mostly, I just like to stay active.
As a woman, what does it mean to you to be able to play a traditionally male sport such as football?
BRING IT!!!!
Yes, football is considered a male dominated sport. But I've had many fans say that they could never tell that we were women under those jerseys. We hit hard and we play hard, just like the men. I can't wait to see how women's football continues to grow in the future.
How has playing for the Riot helped you grow as a person?
I have learned so much about teamwork, and about how far hard work can get you. Commitment, dedication, drive… all important life skills that have helped me grow as a person.
Where do you think the Regina Riot are headed in 2018 and beyond?
STRAIGHT TO THE TOP!
We're already at the top, and we don't plan on going anywhere. We have a lot of fight in us (and stubbornness), and there is no way anyone is taking that away from us without one hell of a #Riot.
https://reginariotfootball.com/wp-content/uploads/2018/04/DSC4435_WebSize-e1523553544979.jpg
397
748
reginariot
http://reginariotfootball.com/wp-content/uploads/2016/10/Regina-Riot-Logo.png
reginariot
2018-04-12 17:19:29
2018-04-12 17:19:29
10 QUESTIONS WITH KRISTI JAKUBOWSKI