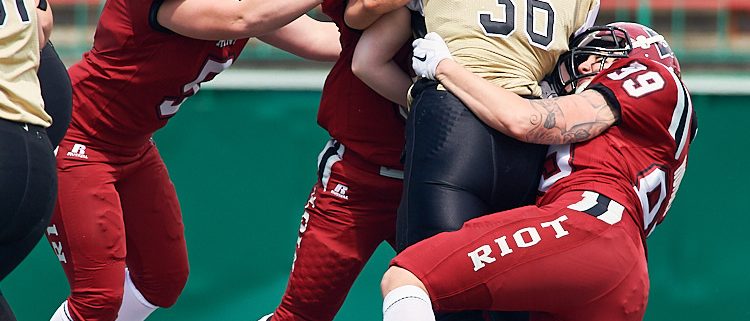 The Regina Riot opened up their regular season schedule this past weekend by traveling to Winnipeg to play the Manitoba Fearless. The two teams are familiar with each other already this year, having met the weekend prior in Regina in a preseason game. The Riot were able to come away with a narrow victory in that contest, winning by a final score of 22 – 17.
That even level of play continued throughout the first quarter of action in Winnipeg on Saturday, as the Riot and Fearless went into the first quarter break tied up 7-7. It wasn't until the second quarter where the Riot were able to pull ahead and never look back. This was thanks in large part due to the play of quarterback Aimee Kowalski. She would throw four touchdowns in the second quarter, and follow that up with one more in the second half as she led the Riot to a victory with a final score of 56 – 14.
"We started a bit slow on offense," explained Head Coach Olivier Eddie after the game, "but we never really doubted that we would be able to bounce back. Aimee went 9 of 10 throwing the ball in the second and third quarters and put up 5 TDs. Our run game also kicked it into gear and we ended the game with 8 different ball carriers combining for 230 yards on the ground."
It was an especially impressive outing for the Regina Riot's young receivers, as second year player Jenna Koller hauled in three touchdowns and third year player Hope Jordens caught one as well. Fourth year player Rachelle Smith caught Kowalski's fifth touchdown, and reigning Team MVP Carmen Agar was able to score one on the ground.
The Regina Riot defense, which was revamped in the offseason, also played well.
"We executed our new defense fairly well," said Eddie. "We expected to make a few mistakes early on, but I'm proud of the group and how we progressed throughout the game." The Riot's stop unit also contributed offensively, scoring two touchdowns off of turnovers.
With their first victory of the season in the books, the Riot now turn their attention toward their first matchup of the season against their provincial rival Saskatoon Valkyries. The Riot holds a slight 5-4 record advantage against the Valkyries over the past three seasons, but the team knows that won't help them this weekend.
"We know how good they are," said Eddie when asked about the upcoming game. "This rivalry game could go anyway. It's our job to make sure that we are prepared for the challenge."
The Riot & Valkyries will square off in Saskatoon on Saturday, May 12th at Griffiths Stadium. Kickoff is at 8:00pm.
https://reginariotfootball.com/wp-content/uploads/2018/03/DSC4423_WebSize.jpg
684
750
reginariot
http://reginariotfootball.com/wp-content/uploads/2016/10/Regina-Riot-Logo.png
reginariot
2018-05-08 18:55:45
2018-05-09 21:23:23
RIOT WIN IN WINNIPEG; ON TO SASKATOON