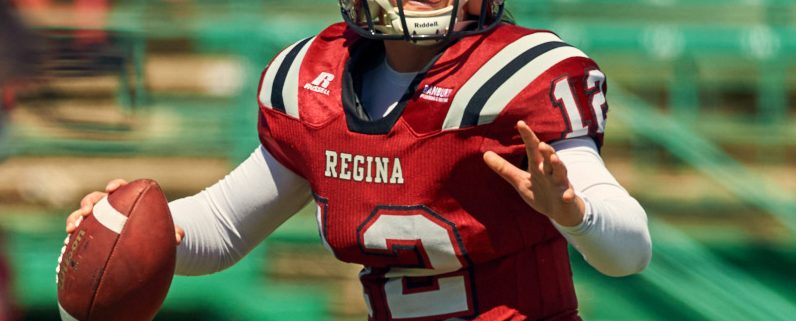 In the lead up to the 2018 regular season, we'll be taking a closer look at individual Regina Riot players both on-and-off the field in our new series, 10 Questions. We begin our series this week with starting quarterback Aimee Kowalski.
You're one of the founding members of the Regina Riot. Not only have you been playing for the team since Game 1, but you helped build the team on an organizational level as well. Tell us a little bit about the experience of starting a football team from scratch.
It's honestly kind of a funny story. I had seen the Saskatoon Valkyries on the news and had reached out to Football SK to find out how I could play for them. I was totally prepared to drive in each day for practice, possibly even uproot my life and find a job in Saskatoon, when rumblings of a team starting up in Regina began to happen.
I was one of a six women sitting in a board room with Steve Mazurak of the Saskatchewan Roughriders, having those initial discussions about how to get a team together. Steve really helped us out a lot in the beginning, providing us with the Roughriders' centennial uniforms. That's why the Riot wear red, black and silver today.
We had others helping us along as well. Regina Minor Football supplied us with equipment, as did Mike Thomas of Football SK. Advertising agency Bravo Tango supplied us with our own logo, which was huge in helping us establish an identity.
When it came time to name the team, we knew we wanted it to start with 'R'. We had a history buff on the committee, so we ended up choosing the Regina Riot (because of the riots of 1935). We really loved that name because it's about rising up, and that's what our team culture is all about. We rise up and try to set the standard for women in football.
If you would have Googled Regina Riot back in 2011, those riots would have been the first things to appear. Now, it's Regina Riot Football. That's pretty cool, to be part of starting something like that.
Why did you think it was important for Regina to have a women's tackle football team?
It's important because I feel that women need to be empowered. Not every woman feels empowered in a dress or in heels or by fulfilling their 'mom' duties. Some of us are looking for something else. The women on our team feel empowered by strapping on a set of pads, throwing on a helmet and running at each other at 100 km/h. Or they feel empowered by charging through the line and scoring a touchdown. Or they feel it just by being out there and being supportive of another person who thinks the same way as they do. It's important that they have those opportunities.
I also think that Regina needs the Riot because they represent an opportunity for women to continue their competitive athletic career beyond university. For most women, that's where it all ends (if not earlier). After that, all you're left with are rec leagues. This was a huge motivation for me when starting the Riot. I wasn't ready for my competitive sports career to end at the age of 22.
How has the team changed in the years since things started back in 2011?
We've come a long way. When things began, it was all run by players. From a talent perspective, we were just happy to be able to field a team. We would recruit anyone who was interested, and it was a bonus if they happened to be dating someone who could come out and help coach. Now when we're recruiting, we're putting a focus on finding experienced athletes. Our coaches all come with experience at the high school or junior level. It's a change that has allowed us to become more competitive and helped lead to last year's championship.
As I mentioned before, we had a lot of help from the Saskatchewan Roughriders and Regina Minor Football in getting started, particularly when it came to equipment. We still rely on the support of these organizations, but we have progressed as well. Last year we got to wear new jerseys provided through a sponsorship by Banbury Plumbing & Heating. And it was a real instance that proved the phrase "Look good, feel good, play good" does work.
I think that's the biggest change, that all we as players need to focus on now is playing well. We get a lot of support from the community and volunteers that take care of everything in the background, which us weathered veterans especially appreciate. We were around when it wasn't that way, and I think that's one thing it's important for new players to recognize when they join the team: we wouldn't be where we are today without the hard work of all the players, coaches & volunteers who came before.
How do you like to spend your time when you aren't playing football?
In the winter months I work in the education system and stay in shape for football. It's great! I have the freedom in the summer to be outdoors. My wife and I love to camp. We love our little Boler camper and we just bought a Volkswagen van, which we plan on having a lot of adventures and fun with. I also have four dogs that I love to snuggle with, as well as two mini-athletes that are working hard to fulfill their dreams.
My nemesis is boredom, so I try to stay busy all the time.
You're the starting quarterback for the Riot, and your sister Alex plays receiver. What is that like?
Not many sisters get the opportunity to play competitive sports together into their 20s and 30s. It's a unique experience. Having a sister on the team means we're able to hold each other accountable. She can tell me when I suck, and I can tell her when she sucks. We never take offence to each other because we have that familial trust. It's an advantage that goes beyond the observed chemistry that you see on the field when we're playing 'pitch and catch'. Football has brought us closer together as sisters, and as a whole family.
In 2017 you threw for 880 yards – 8 TDs – 2 INTs. So I guess my question is… what's up with those interceptions?
I'd like to say that I threw them on purpose, so that I could get some tackling practice in. Unfortunately, that isn't the case.
Jokes aside, part of football is making mistakes and learning from them. Nobody is perfect in competition. Football is reactive. You don't know exactly where your opponent is going to go on any given play or what they're going to do, so mistakes happen. This isn't a choreographed routine. That's the beauty of football – you can't be perfect and shouldn't try to be. You can set records, but you can't be perfect.
But you can still be excellent, because excellence is about how you adjust and learn from your mistakes. Football really builds character in this way. I'd like to never throw an interception again, and as the years go by I become more and more comfortable seeing the field from the pocket. But opposing players still come out of nowhere. Mistakes still happen. That's why I like to play football, it's a lot like life. Anything can happen, and it keeps you on your toes.
Also, I'd like to point out that Kevin Glenn threw 14 interceptions last year. Based on my numbers, I think I may need to start receiving a salary this year. (laughs)
Tell us about your experiences playing for Team Canada in 2013 and 2017.
In 2013 we played in Vantaa, Finland. Not many people think of Finland as a warm weather country, but it was hot when we were there. We had to strategically schedule practices to avoid the heat and took a dip or two in the beautiful lake that backed the Finish Olympic Training Centre that we stayed at.
When we played the host team from Finland, we were already down a couple touchdowns when I came into the game during the second half. I don't think they were prepared for a running quarterback, because we ended up blowing them out of the water. The win advanced us to the gold medal game. Unfortunately, I blew out my knee in the first play of that next game.
In 2017 we were in Vancouver. Playing for your home country in your home country is a unique experience, never mind the fact I got to share that experience with a number of other Riot players. It was a really great opportunity to see the growth of the Riot program over the past four years. Not only were we well represented, but many of our players had a big impact as well. We came up short to the United States in the gold medal game once again, but the bright side was you could see the progress that had been made in the previous four years. The margin keeps minimizing.
Is there a particular pass that stands out to you as the best or most memorable you've ever thrown?
Since Al joined the Riot we've had a lot of fun playing together. She possesses the speed for me to throw a ball up 40 yards down field, which has lead to some pretty exciting plays. Two plays from this past year's IFAF Women's World Championship stand out as ones that I will never forget.
The first took place in a game against Great Britain. It was a scramble play, and Alex was hauling it downfield. I was in trouble with a defensive end in quick pursuit, but I was able to evade the pressure and got it up for her for a huge play. It was a real important one to get, as we hadn't found our stride on offense yet. It proved to be a game changer.
The other one that stands out is the first touchdown that we scored in our game against the United States. We had a few seconds left on the clock before halftime and we were down, so we needed a big play. I rolled out of the pocket and was able to find Al behind the defenders downfield. We connected and she put up a major which was exactly what we needed going into halftime.
What is your favourite moment in a Regina Riot jersey?
They're starting to add up! My favourite still has to be when we beat the Saskatoon Valkyries in 2015 to move on to the WWCFL Championship. It was a brutally hot day, the hottest football game I've ever played. The score was very close as we neared the end of the game and we were exhausted. We managed to drive the ball down the field far enough for Morgan Turner to put a field goal through for the win.
That game meant a lot of things, to the team and to me personally. It meant that after many, many years of hard work the Riot were emerging as a top WWCFL team. Personally, I was also coming off a pretty bad ACL injury, so I had people doubting my ability to play QB.
It was a close game, a full team effort, and we managed to squeak out a win with seconds left on the clock. That all adds up to make this one feel pretty historic.
Where do you think the Regina Riot are headed in 2018 and beyond?
With 25+ new recruits and a dedicated coaching staff, this is going to be a huge year for us. We are truly in a great place having only lost a handful of players from last year and are reaching numbers that we have not reached before. The talk about making cuts has been had, which is both good and bad: good because it speaks to where we are as an organization but bad because we hate to have to let players go.
Overall, I'm expecting a huge improvement for us. The only way to go is up!
http://reginariotfootball.com/wp-content/uploads/2018/03/DSC6565_WebSize-e1522866419744.jpg
736
796
reginariot
http://reginariotfootball.com/wp-content/uploads/2016/10/Regina-Riot-Logo.png
reginariot
2018-04-04 18:40:28
2018-04-04 18:40:28
10 Questions with Aimee Kowalski